'Underutilised' water reserves should be released: primary producers, MP
3 Oct 2019, Stock and Land – link to original article
Primary producers in Victoria's east are calling on the state government to release 39,000 megalitres from Blue Rock Lake previously set aside for brown coal-fired generation in the Latrobe Valley.
Producers along the Latrobe River east of Moe say the water could be used on existing irrigation properties and would free-up water for dry land farmers closer to Sale.
Gippsland South MP Danny O'Brien has backed the calls and said the Latrobe River system had "underutilised" water set aside which could be released for the region's farmers.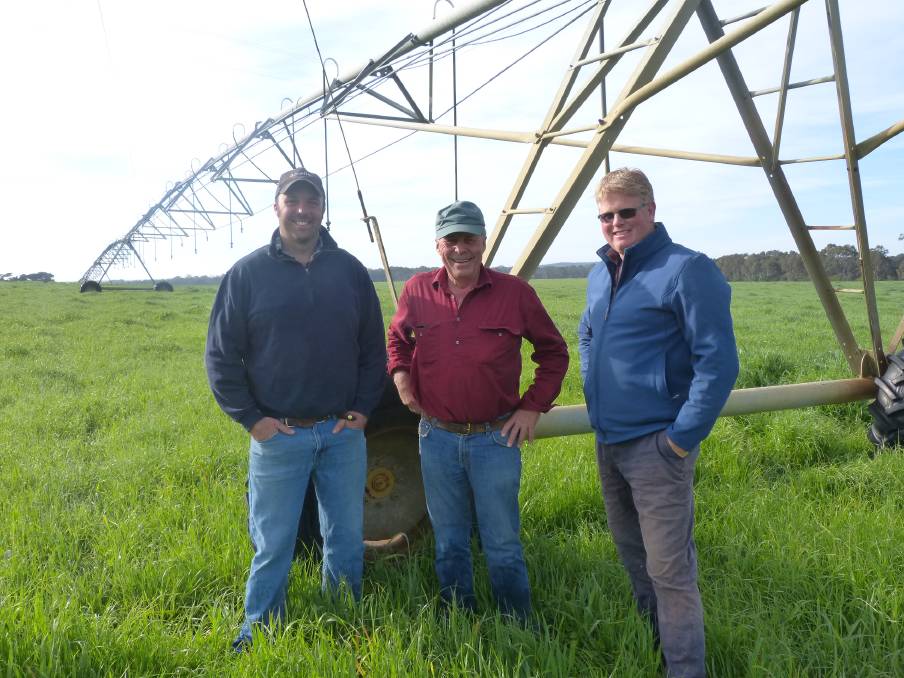 HELP US: Rosedale beef producers Angus Zilm and Richard Crooke and dairy farmer Frankie Mills are calling for the release of water from Blue Rock Lake to boost productivity along the the Latrobe River system.
The proposed allocations include the release of 25,000ML for Loy Yang 3 and 4, two brown coal power stations which were never built, and 14,000ML for Hazelwood Power Station which closed in March 2017.
Rosedale beef producer Richard Crooke, whose property is on the Latrobe River, used more than three times his allocation of water from Blue Rock Lake last year and relied on return water from mines and temporary transfers from other farmers.
"Irrigiatiors are very concerned about the future of the water in the Latrobe system," he said. "The coal mines pump water out of the mines and into the river system and we can get a certain amount of that water for irrigation. "We're worried that with the coal mines closing down, there's going to be less water."
Mr Crooke, who uses pivot irrigation with water from Blue Rock Lake, said the release of drought reserves from the dam would give producers confidence to invest in the region.
"Blue Rock is a huge reserve and it holds 208,000 megalitres and at the end of one of the driest summers we've ever had, it was still 70 per cent full so that tells us it's grossly under allocated," he said. "Getting more water means more work for people and more productivity in terms of food and fibre."
Member for Gippsland South Danny O'Brien said Blue Rock Lake had a drought reserve of 40,000ML, describing it as "a bit conservative". "We probably don't need that much reserve," Mr O'Brien said.
"It's a system that's underutilised and has held water aside in the past to assist us with power generation but, as that winds down, there's opportunity to convert some of that reliable entitlement to irrigation."
While Blue Rock Lake sits at 93pc capacity, he said the approach was about securing the long-term future of the region's farmers.
"These are people in many cases who are producing fodder for the local dairy industry and other farmers so they're critical in the value chain and, if they had more water available, they could have a more secure supply and be more reliable as producers," Mr O'Brien said.
A government spokeswoman for Water Minister Lisa Neville said the drought was ongoing and changing the way government allocated drought supplies could undermine the economic security of existing producers and communities.
"Irrigators currently have full water allocations and, with good inflows along the Latrobe River through winter, there has been no need to release additional water from the drought reserve," the spokeswoman said.
"The water reserve in Blue Rock Reservoir is an important insurance policy to deal with drought conditions in Gippsland.
"If any irrigators do not have the water they need, or if conditions worsen over summer, Southern Rural Water can again make this water available to local irrigators."