Hazelwood 'pit lake' proposal lacks environmental tick: residents
Stream flows in the Latrobe River are forecast to drop by as much as 50% by 2060. How will there be enough water for the Enviroment, Agriculture, and the Mine Rehabilitation…
Alternative sources of water for rehabilitation purposes need to be further explored and the fundings made public.
June 21, Miki Perkins,  Sydney Morning Herald – link to original article
Gippsland residents have urged the state's planning minister to order an environmental assessment of a proposal to turn the vast Hazelwood mine pit into a lake, which would take up to 25 years to fill and require almost twice the amount of water Melbourne consumes in a year.
The rehabilitation of Hazelwood's mine pit will be the largest ever undertaken in Australia, after the heavily polluting power plant was closed in 2017.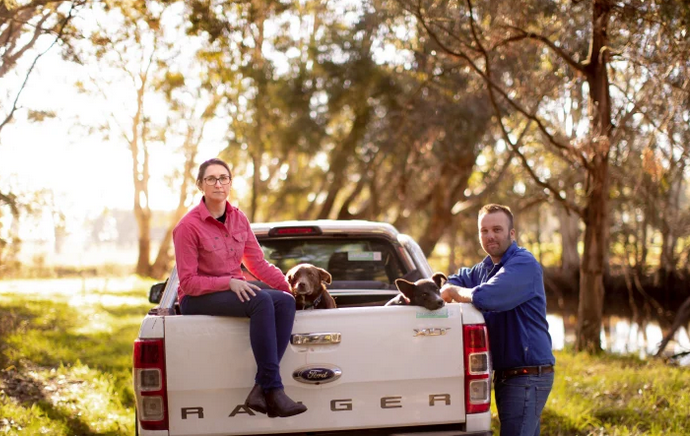 Josie and Angus Zilm on their farm property that has direct frontage to the lower Latrobe River that will be affected by plans to use the water to flood the Hazelwood mine. Credit:Simon Schluter /Sydney Morning Herald/
The station's owner, global energy giant ENGIE, wants to fill the pit with water from the Latrobe River and an underground aquifer to create an artificial lake. It has submitted a "works variation plan" to the state government.
But a coalition of Gippsland residents called Friends of Latrobe Water is worried the enormous amount of water needed to fill the pit – around 725 gigalitres – would reduce flows to the local Latrobe River system and harm the environment. The river system also flows into the Ramsar-listed Gippsland Lakes wetlands.
"We rely heavily on stream flows to get access to irrigation water," says Gippsland beef farmer Angus Zilm.
"Stream flows are forecast to reduce in the next 40 years because of climate change, so we're deeply concerned about the salinity levels and the impact any further loss of water will have on the environment."
Angus and his wife Josie Zilm own a farm near Sale on the lower Latrobe River. They hold a licence to pump water from the river and about half their 250-hectare property is irrigated to produce grass and fodder crops.
They're also the founders of Latrobe River Irrigators, which has joined the Friends of Latrobe Water coalition – which includes Great Latrobe Park, Strzelecki Sustainable Futures and Voices of the Valley – to write to Planning Minister Richard Wynne.
An inquiry into the coal fire that burned for 45 days at Hazelwood in 2014 found using water to create "pit lakes" was likely to be the most viable way to achieve safe and stable rehabilitation of the mines, and would reduce fire risk.
But it recognised that "significant knowledge gaps" existed in relation to this rehabilitation approach, and recommended further investigations.
The state government's own modelling shows that since 1995, stream flows in the Latrobe basin have dropped almost 30 per cent. This lack of flow increases salinity and the mouth of the Latrobe River at Longford has already been affected, says Mr Zilm.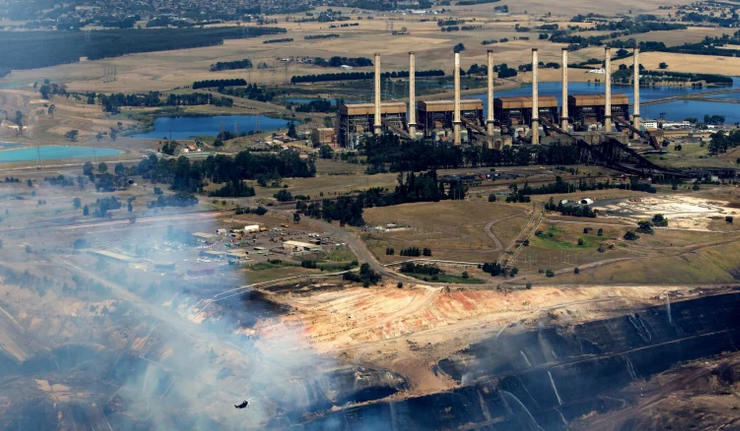 Hazelwood plant and mine from the air in 2017. Credit:Jason South
Friends of Latrobe Water wants a "transparent and fair" process for mine rehabilitation planning. The works variation request that ENGIE has submitted to the state government has not been made public.
The group has urged the government to consider other options: desal water, recycled water, even piping surplus water from Melbourne's waste treatment system in Werribee across the bay to Gippsland.
A spokesperson for Hazelwood said ENGIE Hazelwood acknowledged the mine fill option was dependent on long-term water availability and subject to environmental factors and climate change scenarios.
Arrangements would be in place so that in times of low rainfall or drought the mine filling rates can be reduced, they said.
Laura Melville, from Environment Victoria, said the gravity of the enormous project had not been properly explained to the community.
Germany is often held up as an example of successful coal mine rehabilitation. But without plenty of water to dilute contamination and salinity – not to mention a government willing to pay the $21 billion price tag – Hazelwood faces different challenges, she said.
The state government is due to release a Latrobe Valley regional rehabilitation strategy at the end of this month. A spokesperson for Mr Wynne said he would consider a referral for an EES.